CALEB MURPHY – FERRIS STATE WINS CLIFF HARRIS AWARD
Honors Nation's Small College Defensive Player of the Year
LITTLE ROCK, Arkansas – Caleb Murphy, senior defensive end from Division II Ferris State was selected as the winner of the 2022 Cliff Harris Award presented annually by the Little Rock Touchdown Club and Wright Lindsey Jennings. The award honors the nation's small college defensive player of the year representing Division II, Division III and NAIA colleges and universities.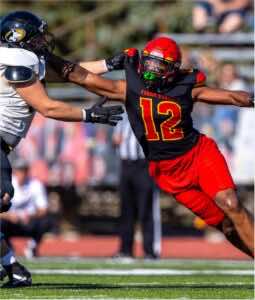 Murphy, a 6'4 245 defensive end from Dowagiac, Michigan, completed a stellar collegiate career by setting the NCAA all-divisions record for single-season sacks, recording 25.5, and led all divisions with 39 tackles for loss, which matched the all- time single-season record for any NCAA level. A consensus All-American, Murphy was the leader of a defense that dominated opponents including a 41-14 win over Colorado School of Mines in the 2022 DII national championship game. The Bulldog defense only allowed 4 yards rushing and 212 yards of total offense as they captured their second consecutive national championship. In two seasons with Ferris State Murphy recorded 40 sacks, 60.5 tackles for loss, 156 tackles and eight forced fumbles.
More than 5,000 defensive players from over 500 colleges are eligible to win the Cliff Harris Award. The $3,000 Cliff Harris Trophy will be presented by Cliff Harris at the Little Rock Touchdown Club's annual awards banquet on January 13, 2022. Special guest speaker for the banquet will be NFL great Joe Theismann.
In addition to the overall winner, the Cliff Harris Award recognizes the top vote recipients from the non winning divisions as well.
Top vote recipients from Division III and NAIA are
Division III
Alexander Perkins
Defensive End, Millikin University
NAIA
Kole Murlin
Linebacker, Siena Heights